Tour of Bungalow 32 in Ventura, CA
See below, the transcript of the video displayed above.
Hey guys. At bungalow 32, one of the short-term rentals with the Ventura Beach Bungalows. Cleaning lady was just here doing a turnover. I'm here just doing a quick walkthrough, making sure everything's buttoned up. Come join me. All right guys, so this is the outside of bungalow 32. Right down that way there is the ocean. So, a couple of blocks from downtown, walking distance to the Ventura Pier, the beach. Going to do a quick walkthrough as I'm grabbing mail and checking out on a few things. So, got the front porch here. Kind of cool. These awnings come down, offer some shade and some privacy, especially in the later part of the afternoon. Okay. I'll stop spinning you around and give you a little tour of the inside here.
So coming in, dining area, living area. I think we have it decorated tastefully. Large TV. I think that's a 72 inch TV. Excuse the background noise. This is the first bedroom, the guest bedroom. Got two twin beds here. There's another twin bed that comes out below. The hanging swing, hang loose. Little closet area. All right, then going back out to the main. Going to take you to the second bedroom here. Got a nice queen bed in this one. The framed TV on the wall, or we should have turned that on, but that's okay. Canopy for a little privacy makes a room unique. Another closet and Jack and Jill bathroom here that brings the two bedrooms together. Old cloth tub. From my research, I think this came off of a old vintage train, from early 1900s. I think the tub is 1917. Found a cool sink to kind of match the whole situation. That sink is a beast.
All right, coming out into the kitchen area. Black and white, all around. Stove, fridge. Got our coffee bar set up. Be around sugar daddy. Into the laundry area, some additional storage and guest bath in the back. Just a little sink. Check out the details and toilet there. Always nice to have two toilets in a house. All right, to the backyard. Little privacy. It's small, but it's cool. Fire pit. TV up on the wall here. Barbecue. And it's a little cool, private seating area. Outdoor shower. Let's not forget about that. And you're just in downtown Ventura looking around. These trees are finally coming in offering a good amount of privacy, but some old buildings, palm trees. That's it. We don't give access to the garage, got some storage in there. Ventura Beach Bungalows and Surf Club.
Hope you found this information insightful. I'll continue to be putting videos out here on a weekly basis. Please Like, Comment. Feedback is appreciated, welcome. Any topics you'd like me to touch on, please leave them in the comments below. And thanks for spending a few minutes with me here today. Take care.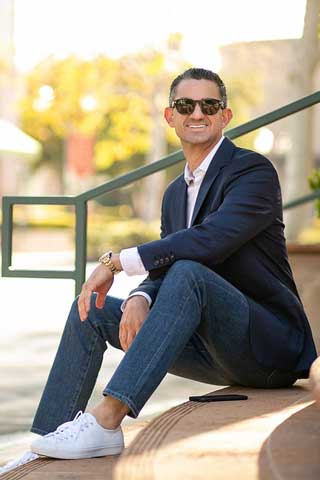 Keith Renno
Senior Loan Originator
Over the past 15 years as a mortgage professional, closing on average 150 loans per year, I have gained a wealth of knowledge and experience about the mortgage industry. My goal with this website is to give you just the INFORMATION you need about mortgages with ZERO sales pitch. I hope you find my posts of value and share it with 1 other person who might find value in it as well.